Back
Transit Bulletin
May 1st, 2019
Need to use your Transit Warranty?
Vol.19 No.05

Nothing's easier
In addition to offering you the most comprehensive coverage on the market, TRANSIT has a network of service centers and repairers to assist you across Canada and the United States.
You will be guided by professional and courteous technical advisors, whose expertise will be able to offer you trusted advice to suit your needs.
Follow those easy steps
Gather the following information:
Your full contact information (name, address, email and phone number)
Truck Serial Number or TRANSIT Box Serial Number
Explanations + Photos of the problem
Estimate (if already available)
With the above information in hand, call the toll free number 1-844-382-0104, and press 2.
Our service department team will then be able to verify what is applicable.
We'll then provide you with…
The Warranty confirmation/authorization number,
The assigned service center,
The different steps to follow, if necessary.
Note that you may be asked to send an email to warranty@transit.ca with the details listed above.
Requests without photos or repairs completed without an authorization number may be refused.
Additional questions?
Email warranty@transit.ca or call 1-844-382-0104, then press 2.
It will be a pleasure to help you.
Discover a different kind of truck body and Warranty.
Download PDF Version
Transit Limited Warranty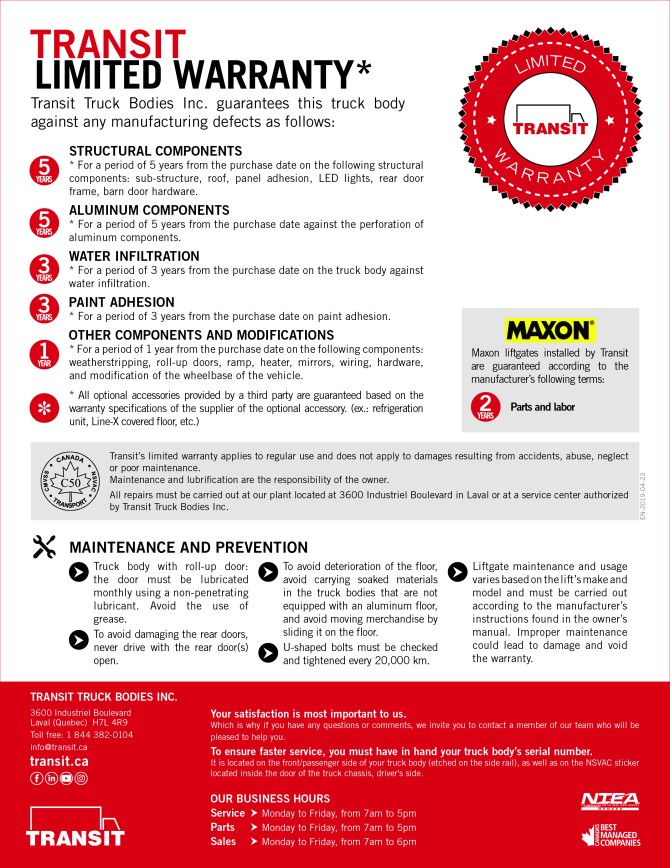 Download PDF Version